Sway Group CEO Danielle Wiley's latest guest column focuses on marketing to Gen Z on Snapchat. In addition to her professional background and expertise in social media evolution and marketing, Danielle shares real-life insight from her 13-year old daughter on Snapchat usage and industry theories. The thought piece was recently featured on Adweek's Social Times blog. Below is an excerpt.
"Snapchat offers real-time connection with fleeting images, allowing users more freedom of expression. It's a way to escape the curated content of other social platforms, and with a close circle of trusted followers, users don't worry about broadcasting a perfect lifestyle. There is also no expectation for engagement as the platform doesn't contain an option for likes, shares or comments. Snapchat invites users to be real and show their true selves with more casual and everyday communication. (My thirteen-year-old daughter and her friends use Snapchat to send funny faces while sitting in study hall, in the car, or any other point of rest during their day.) Snapchat is a noncommittal way to connect, but also truly intimate. By sharing the commonplace, users experience an ambient awareness of each other's lives. Another interest aspect is that it's not necessarily used to expand your social circle. Snapchat is primarily used to connect with those with whom you are already close (and perhaps to follow influencers you admire).

Without the easily available engagement metrics of a Pinterest or a Twitter, some marketers have dismissed Snapchat as a communications vehicle. However, there is a huge opportunity for lifestyle brands, especially those that appeal to the younger millennial or Gen Z demographic.

Snapchat is designed for mobile viewing, and as a result for teens who exclusively communicate via mobile. By decreasing image size and solving the text message delay teens so frequently lament, Snapchat has won their attention with a more instantaneous back and forth conversation. Email also feels antiquated to this demographic, making Snapchat's notification feature a valuable interruption into a user's day. (Parents of teens will relate to this. I ALWAYS have to text or Snapchat my daughter to alert her to an email in her inbox. For most teens, email serves just two functions; tracking of ecommerce orders and sending messages to teachers.)

Discover is Snapchat's first foray into the marketing arena with publications beginning to experiment with digestible content that disappears after 24 hours. Those that offer short, fun anecdotes or are driven by celebrity news are shining. Others are still finding their way, as evidenced through long, feature recipes that offer no ability to save or print and are therefore rendered useless. Marketers need to take into account the attention span of their audience and the lifespan of their content before engaging."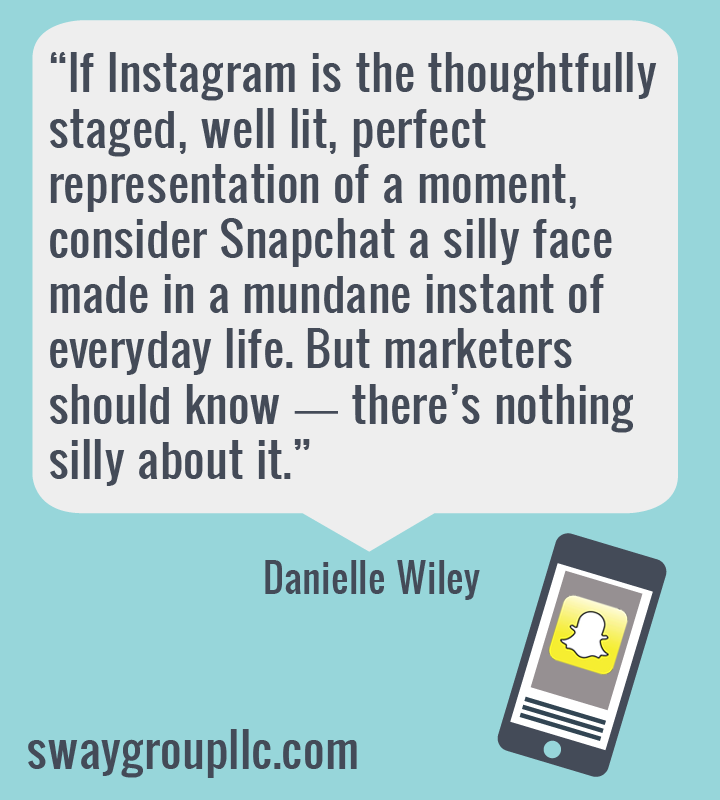 The full article can be read here and gives tangible takeaways for brands seeking to engage on Snapchat. For more information on marketing to Gen Z, contact us to evaluate the right platforms for your goals.