Sway's Meet The Bloggers series presents brief introductions to our roster bloggers in which they share insights about their blogs, and themselves. Today's featured blogger is Amy Allen Clark of MomAdvice.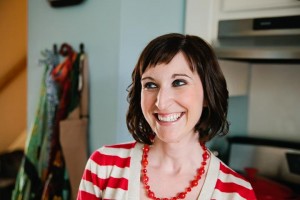 Amy has been running her website MomAdvice since 2004 and still hasn't run out of things to say about how families can enjoy the good life for less. She's a foodie, bookworm, knitter, hot glue gun junkie, photographer, penny pincher, and lover of the simple life who has happily documented her journey towards debt-free living in hopes to inspire her readers to embrace the beauty of living on less.
Q: Favorite thing to do when you're not blogging?
A couple of months ago, I started taking a dance class at a local dance fitness studio. When I dance, I feel like a kid again. I took dance for many years when I was little and this is fulfilling a part of me that I thought I had lost. Each week we learn a new routine and it has been so good for my brain to memorize sequences. I smile so much during class that my face hurts- it is a joy like no other. I even went out and bought dance shoes- I am not kidding. Here is a video of me dancing so you can see how much fun I am having.
Q: What's your guiltiest pleasure? (C'mon, you can tell us!)
We decided to finish our shed into a bonus room- It is attached to our house, but is separate from our home so it is like a little getaway. My new guilty pleasure is lounging in that room, listening to my favorite albums on my record player (Dirty Dancing Soundtrack anyone?), sipping some wine, and reading mindless young adult fiction. It's almost like having a having a college dorm away from home and it has been a great escape from our busy daily life.
Q: If you had an anthem, what would it be?
Beyonce's, "Run the World (Girls)." It is the song I ran my first 5K to (and last, but I did it!) and it is my power song when I am working on a really hard project or take on a client that really challenges me. I love girl empowering anthems and I play it for my daughter all the time. I want her to know that she can do anything she sets her mind to. My big hope as a mom is that I am showing her that through the things that I am doing in my own life.
Amy on Twitter
Amy on Facebook
Amy on Pinterest