Sway's Meet The Bloggers series presents brief introductions to our roster bloggers in which they share insights about their blogs, and themselves. Today's featured blogger is Rebecca Woolf of Girl's Gone Child.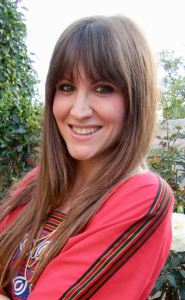 Rebecca Woolf is a mother of four and writer of much living in Los Angeles. She has been blogging on Girl's Gone Child since 2005 when, at 23, she became unexpectedly pregnant with her first child and has contributed as an author and essayist since her early teens. Woolf blogs daily about family life and human relationships and regularly features art and music, ideas and locations that inspire her.
Q: What's your all-time favorite book – the one you go back to again and again?
I guess I would have to say Tropic of Cancer. More than any other book, that one changed me. Miller's words were honest and fearless, even when he was writing about a hole in the wall… I spent a good two years reading everything he wrote and regularly go back to Henry Miller's books, Tropic of Cancer specifically.
Q: How would you describe your sense of style?
Style. Hmmm. The more storied the better? I wear what I love. I wear what strikes me as fun and interesting, unusual, one-of-a-kind. I wear what makes me happy. I shop at consignment stores 98% of the time, because that's where the stories live. I want to wear stories on my body. It helps me navigate my own.
Q: If a movie was made of your life, what song would you want to play over the closing/end credits?
How about a "Landslide" (Fleetwood Mac) "Wild Horses" (Rolling Stones) mashup? Does that exist? Let's make one!
Rebecca on Twitter
Rebecca on Facebook
Rebecca on Pinterest
Rebecca on Instagram